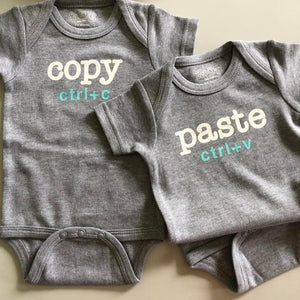 Twins Onesies: One says: "COPY" One says: "PASTE"
     SOLD AS A PAIR.
     Any parents out there seeing doubles, triples, or more?
                                         👶👶👶👶
                Hilarious for twins, multiples, baby arrivals!
Onesie #1 says:
COPY    ctrl-C
Onesie #2 says:
PASTE. ctrl-V


Great for twin baby shower gifts, twin baby arrivals, and recent parents of multiples!

Add a couple of sets of COPY/PASTE socks for a creative gift!
Size: 6-12 months
100% Combed Cotton
---
We Also Recommend
---